Medical Device Integration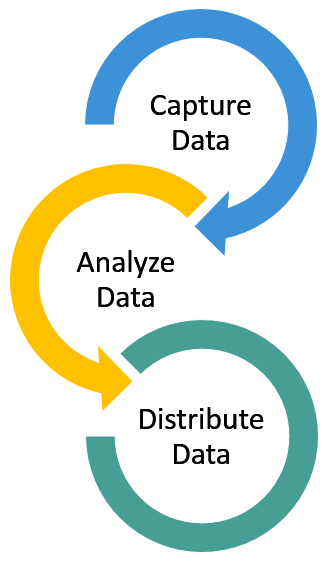 Capture Data
The careTrends® software platform offers a powerful, extensible means of extracting and converting high-resolution discrete and streaming (waveform) data from multiple sources, including all manner of stand-alone medical devices and networked gateways. Healthcare facilities can use existing wired and/or wireless IT network infrastructure to easily implement "plug-and-play" connectivity solutions that allows the facility to obtain clinical data that supports a wide variety of applications. The careTrends® platform's vast library of medical device and application interface drivers makes clinical data available for virtually any application, including EMR integration, real-time intelligent clinical monitoring direct from the source, decision support and analytics.
Analyze Data
Once data is captured, the careTrends® platform gives healthcare organizations the ability to perform multi-parameter data abstraction, fusion, remediation, time synchronization and real-time processing. This data can then be used proactively in the development of intelligent alarm management and clinical monitoring. The information collected from various medical devices can then assist in establishing care priorities and displayed based on immediate patient needs and the urgency of care. It also provides robust event stream processing, transactional analysis for enabling population health management and other initiatives, clinical decision support and clinical algorithm development. As a recognized leader in medical device integration, careTrends® has implemented a wide range of real-time patient safety analytics such as smart multi-component alarms, auto-limit functions, consecutive event detection and trend analysis for all levels of patient acuity and care, including ambulatory monitoring and remote monitoring of patients in intensive care (ICU). Additionally, our clients are presently extending careTrends® solutions into the home to enable monitoring of patients with complex chronic conditions.
Distribute Data
CareTrends'® data distribution capabilities simplify the task of exporting data to third-party applications as well as all EMRs via HL7 or custom protocols. Patient-centric data can be displayed centrally or remotely on PCs or mobile devices such as laptops, tablets and smartphones. Alarm filtering and distribution to third-party telephony solutions, voice-over IP (VoIP) and medical gateway systems enable clinicians to quickly view areas of concern and create timely responses and interventions as situations emerge. CareTrends® also offers the ability to archive data for use in clinical research and operational analysis at a later date.
One platform for all your devices
In keeping with our device-neutral approach, careTrends® maintains an extensive device library that includes detailed data schemes, functional assessment and clinical support for a broad range of medical devices from all major manufacturers. Detailed device interface specifications and documentation are regularly updated to support new versions, models and manufacturers. Device interface support applies to all careTrends® solutions, including clinical monitoring, medical data integration with EMRs and analytics, giving hospitals and healthcare systems the ability to leverage their investment in the careTrends® platform more completely.
Click one of the following to see a diagram that illustrates how careTrends® collects, processes, and distributes medical data: