Point of care medical devices at the patient bedside
CareTrends® was developed to communicate vital signs data from wirelessly enabled, legacy Point of Care medical devices at the patient bedside.
This healthcare software fully automates the transfer of clinical data from bedside and mobile devices to your EMR or Hospital Information System (HIS).
Complete, accurate and timely patient data in the EMR not only significantly streamlines workflow for physicians and clinical staff, but also enhances patient care and patient satisfaction. Because the caregiver has a complete real time view of patient vital signs data and trend lines, patient assessments improve significantly.
By automating the workflow process, manual patient documentation is eliminated, as well as the associated patient documentation errors. Clerical work is reduced and less time spent on patient documentation means more time spent nursing.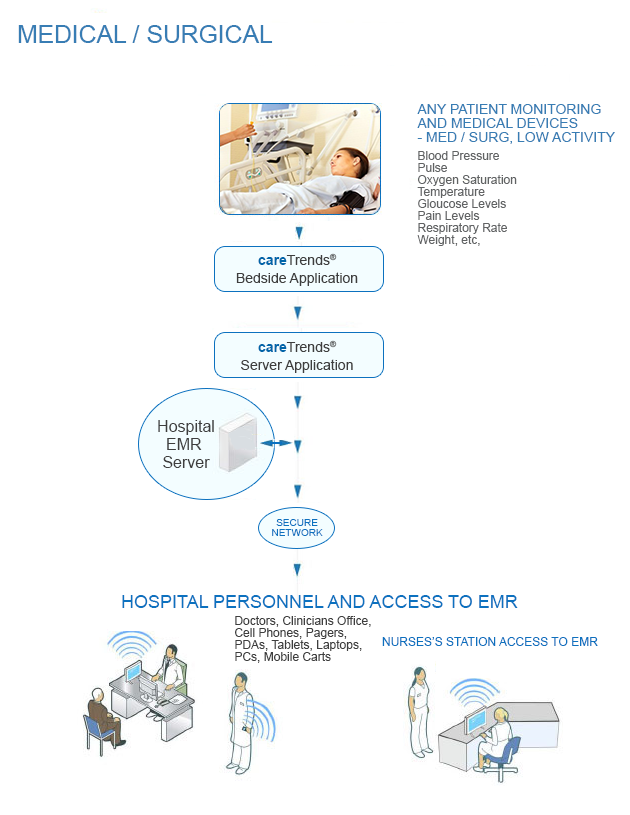 No worries
careTrends® supports standard and custom data formats and connectivity requirements, such as HL7 and XML
Bottom line
Improved patient safety, improved quality of care, increased efficiencies and reduced infrastructure costs.
Vendor Neutral Wireless Integration and Intelligence:
CareTrends® server supports multiple Operating Systems (Windows, Unix, Linux) and multiple Databases (Oracle XE, Oracle 10g, My SQL.
Click one of the following to see a diagram that illustrates how careTrends® collects, processes, and distributes medical data: