careTrends Beyond The Hospital Walls
Benefits
Improved, more efficient workflow.
Patient focused – Clinician has bedside access to trend line data.
Data is immediately available for clinicians' use.
Eliminates the need for manual documentation by automating the workflow process.
Eliminates documentation errors.
All data is time and date stamped.
Works with existing network infrastructure and monitoring equipment.
Other devices can be included as required.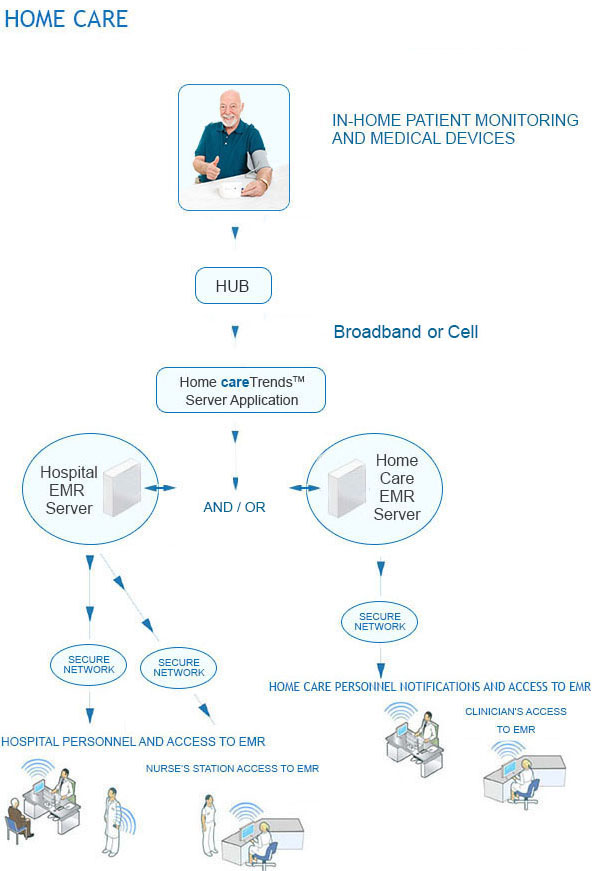 careTrendsTM tried and proven technology that has delivered millions of vital sign readings and patients' data from the hospital ICU and General Surgical bedside can now deliver patients' data from home and on the go to clinicians and EMR, providing ready access to patient vital sign trending data.
careTrends Beyond The Hospital Wall leverages FDA cleared telehealth + telecare gateway to securely capture and transmit data.
Provides Bluetooth connectivity for monitoring:
Blood Sugar
Blood Pressure
Pulse
Blood Oxygen
Weight
Activity
Click one of the following to see a diagram that illustrates how careTrends® collects, processes, and distributes medical data: