Critical careTrends Benefits
Improved, more efficient workflow.
This healthcare software fully automates the transfer of clinical data from bedside and mobile devices to your EMR or Hospital Information System (HIS).
Patient focused – Clinician has bedside access to trend line data.
Vital sign data is immediately available for clinicians' use.
Reduced clerical work means more time nursing. Saves 2 hours per shift of nurse's time.
Eliminates the need for manual documentation by automating the workflow process.
Eliminates documentation errors.
All data is time and date stamped.
Works with existing network infrastructure and monitoring equipment.
Presently deployed with Philips Merlin, Philips Intellivue and GE Solar Hemodynamic monitors, Putiran Bennett and Maquet ventilators, and Hospira CCO monitors.
Other devices can be included as required.
The average saving of nursing time is 2 hours per shift.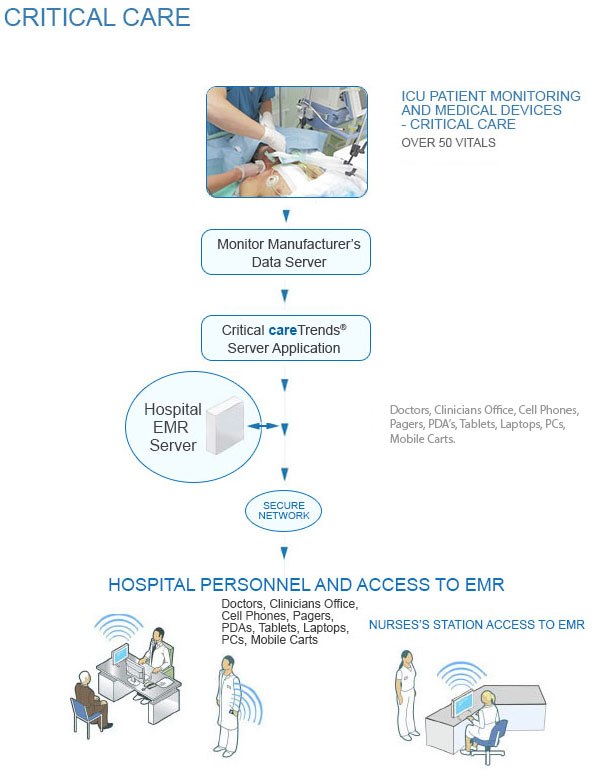 Specifically designed for the Critical Care environment, Critical careTrends® automatically gathers data from Hemodynamic monitors and other equipment and sends it to existing Electronic Medical Records.
Click one of the following to see a diagram that illustrates how careTrends® collects, processes, and distributes medical data: